Continuous vertical filling of pasty products
without air inclusions
Vermee filling integrates in a special way the components (1) pumpable product mass, (2) packaging material (such as flat film) and (3) the closure without air inclusions for weight-accurateproducts. The vertical, continuous (no stop&go) and space-saving design takes advantage of gravity to achieve up to 160 packs per minute (depending on the filling quantity). The automated handling simplifies both, efficient mass production and innovative pilot system solutions for smaller quantities at reduced production costs.
Hot and viscous masses automatically, precisely and efficiently filled to a handy hot melt pouch. Benefit from the flexible weight adjustment between 200g – 1,200g pouches at filling temperatures up to 130°C (mixed temperatures, e.g. for bitumen up to 290 °C adjustable possible), which can be changed by touching a button. Our approx. 30 systems worldwide with capacities ranging from approx. 600kg/h to approx. 2,500kg/h for medium-sized companies and large corporations in the adhesives-, hot melt– and bitumen sectors are successful in doing so.
How viscous is your product mass to be filled? Like honey?
Then it is exactly what we do and we look forward to your inquiry!
Your products have different viscosities (mPas; shear rate) and/or product requirements?
As a specialist in the manufacture of hotmelt packaging machines, we also find the right solutions for this!
Please contact us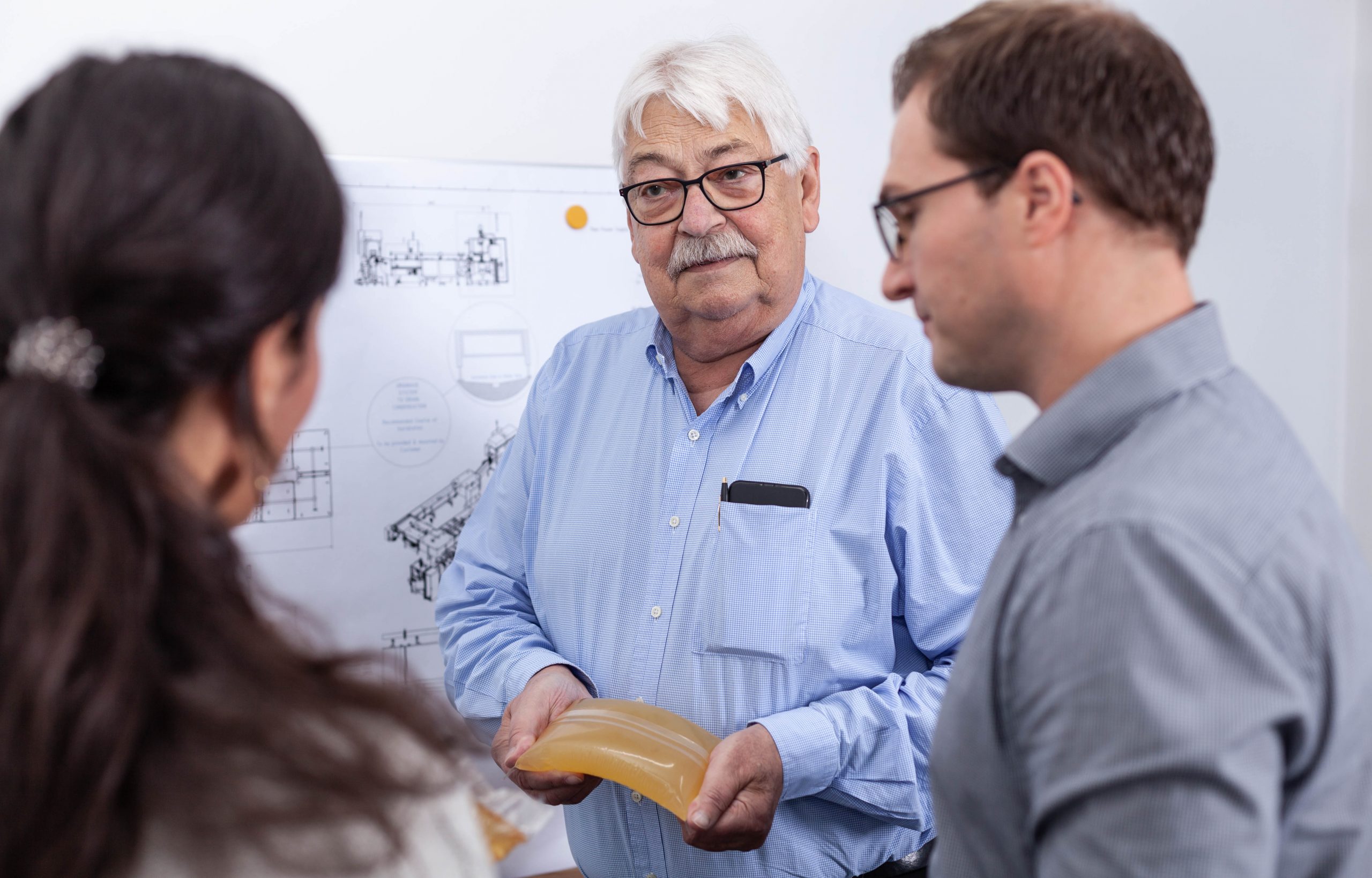 Filling process for chemical products
(Hotmelt packaging)
In our packaging solution in form of vertical pouch fillers, meltable and cost-effective PE flat film replaces expensive silicone paper.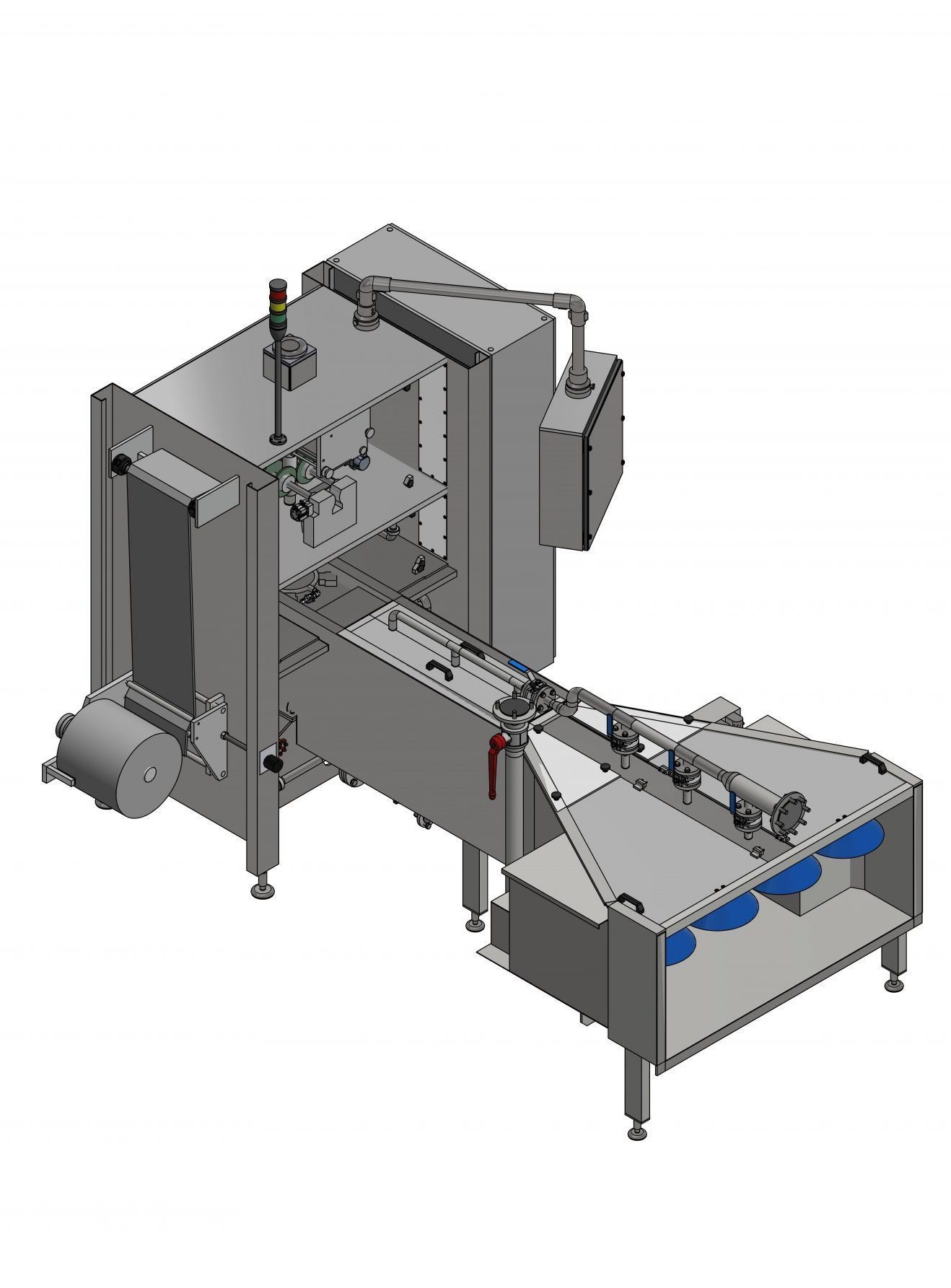 The Automated filling by our vertical pouch fillers with up to 60 filling cycles per minute (depending on pouch weight) also eliminates dangerous manual filling and produces pouches without air inclusions for precise products. End customers appreciate a standardized product that can be melted down completely (without waste). By the way, our integrated solution, which is centrally controlled via an operating touch panel, also communicates with the peripherals such as mixer, extruder, product pump, product filter, etc.
Are you looking for an individual filling form for your product mass?
We would like to present our solution portfolio to you!
Automated packaging by clip machines (chubmaker)
for pasty products
The CHUB packaging is used to fill almost any pumpable product in film with the aim of producing precise, weight-accurate and tightly closed products without air inclusions. The space-saving Chubmaker packaging solution is used in both, the food– and chemical industries: e.g. for liver sausage, soft cheese, pet food, ice cream but also silicone, 2-component masses or chemical emulsions.
The key components of the CHUB clip machines are (1) the precise use of low-cost round wire on the coile (wire clip), (2) the applicability of a variety of low-cost flat films and (3) the space-saving and automated production with low personnel costs. The tightness of the clip packaging (for pumpable products) allows, in addition to a wide range of applications, a variety of options for sensitive masses as well as products that require thermal post-treatment (e.g. via scalding, autoclaving or cooling processes). Hundreds of CHUB machines worldwide convince with their efficient production technology in high-performance plants as well as in laboratory systems for industrial trial fillings. In the following video you can learn more about the functionality of a chubmaker.
What production targets do you have in mind? We would be pleased to check with you the requirements for a cost-effective packaging solution!
The CHUB technology also offers a unique opportunity for individualization. Modifications to the flat film or in the filling process can be added, e.g. the attachment of a tear-stripe, so called easy-open technology (e.g. snacks for kids), the production of a 2-component solution with mixing ratio 1:3 or 1:5 (with reactive products), additional gas-flushing of the product mass or venting etc. This opens up a wide range of possibilities to create matchless product processes and unique selling points with the help of packaging technology, especially by using clip machines.
You would like to complete your packaging with our Easy-Open flap
or are you looking for an expert to realize the packaging of your 2-component product?
Then you are exactly right with us – get in touch!