Excerpt of individualized packaging solution technologies in the chemical sector:
Packaging of chemical products / Non-Food products
by clip machines and hot melt packaging machines
CHUB packaging systems are also used with great success in the non-food sector. Gear pumps, barrel presses, mono- or worm pumps are used to enable a continuous product flow to the CHUB machine. A pre-dosing e.g. by a piston filler is not necessary. Mostly a heatsealable aluminium composite film is used, which is preferred because of its barrier properties (light and water vapour).
Packaging of explosive products
Do you produce pumpable flammable substances such as emulsion explosives for e.g. the construction industry, mining or avalanche blasting? For such applications the chubmaker will be equipped with an extrusion sealer which melts a granule and applies it to the overlap area of the film. When using HDPE film, heat sealing may also be used under certain circumstances. The electrical cabinet and the motors of the CHUB machine are equipped with an explosion-proofing for this application.
Please contact us
Packaging of multiple-component products
In 2-component products (e.g. adhesive anchor cartridges or construction anchors), two separately packed, chemically reacting substances such as resin & hardener or base & catalyst lead to the reaction or hardening. For this application the film tube is folded to create two separate compartments which are filled separately and can have different ratios such as 1:4 or 1:10.
The finished cartridge is opened in the dispensing tool which is provided with a static or dynamic mixing noozle. Components get mixed by squeezing them through the nozzle and react with each other. Resin bolts will be completely distroyed in the boring hole by a drilling head. Then both components will react with each other.
As the grafic shows, for 3-component products, e.g. for very long resin-anchored bolts (2 m and more), first component A1 (fast reacting), then component A2 (slow reacting) and again component A1 is filled alternately. The catalysator is continously filled into a separate compartment going all through the package. For 3-components products the CHUB machine needs a modified control unit and an additional product pump.
An optionally available external cut-off device separates the filled and clipped packs from each other outside the clipping table so that no product residue remains there and hardens.
Please contact us
Packaging of adhesives / Hot Melt products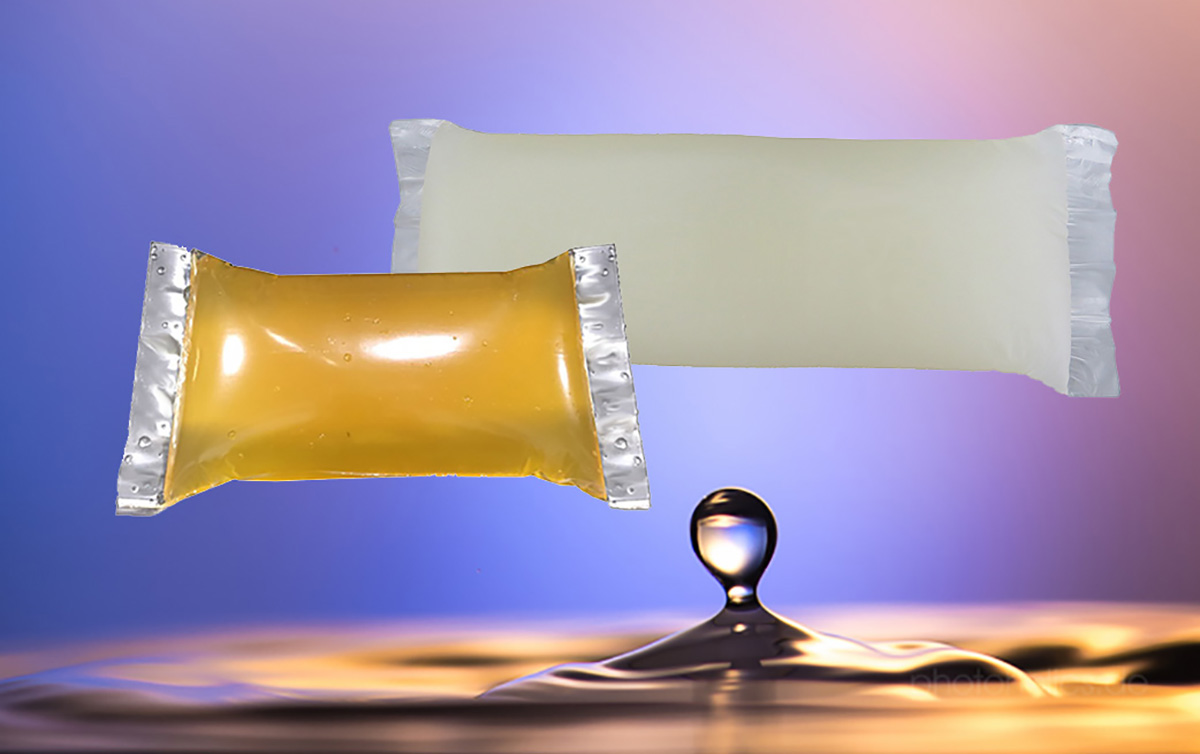 Hot-melts are solvent-free products that are more or less solid at room temperature and are applied in hot condition to the intended adhesive surface.
Hot-melts are usually thermoplastic, that means they can be dissolved and melted again under heat, so they have a limited heat solidity.
Hot-melts are delivered in solid condition (e.g. block-shape). These blocks are melted again by use of a special melting device at temperatures between 130°C and 200°C and need to be joined to the second adhesive component immediately. Both will interconnect as soon as the hot-melts cool down and solidify. The solidity is achieved very quickly, immediately after the adhesives have cooled and solidified.
Usual products weights to be packed on our pouch filler are between 250 and 1.000 g. Classical end-user applications are given in the sanitation industry (e.g. napkins, diapers), for envelopes and book covers or in the food industry (e.g. cardboard boxes and labels for cans and jars). Hot-Melts are also used in the car industry.
When using our continuous operating pouch filling machine any silicone coated paper is replaced by a flat film which will be sealed to a tube. Thus the product is covered with the film after the filling process. This film will be melted together with the product during the final melting process. The film residuals (less than 0,6%) do not have any influence on the processing and/or the adhesive property. With this type of packaging, in which the products are filled without air and water, the use of silicone paper is eliminated and packaging waste is reduced to zero for the end user.
The main problem in packaging hot-melt is the product temperature of approx. 160° C (product viscosity between 2.000 and 30.000 mPas). This temperature is above the melting point of the used flat films. That is why the flat film will be cooled already during the filling process and the finished hot melt packs will be fed into our patented cooling system. In the cooling system the products will be cooled down to a core temperature of e.g. 37°C. When the packs leave the cooling water there is still a small amount of water on it, which should be removed e.g. by an air blower. Then the individual packages can be transported to the automated final packaging (cartoning and/or palletizing).
Please contact us
Packaging of silicones / acrylates
Silicone and Acrylat can be found in the daily life in versatile shapes and different fields of application. This can be sealing compounds, lubricants as an additive in colours, varnishes, cosmetics, anti-adherent coatings or water-repellent coatings. You would like to pack your product e.g. in cartridges calibre 49 mm with a volume of 300 or 600 ml? This kind of products are already produced on the CHUB machine with great success.
Please contact us
Packaging of PUR products
Polyurethane is used for e.g. machine building, automotive-, building- or shoe industry as well as for sports goods because of its versatility. PUR is distinguished by its high flexibility through a wide temperature range (up to -40°C) and its resistance against ozone, ultraviolet radiation, most kinds of oil, grease and solvents.
For packaging of such products heatsealable aluminum coated films are preferred. Depending on what kind of PUR product shall be packed, the CHUB machine is delivered with an external cut-off device.
Please contact us